Everest Base Camp 2020
>
>
Everest Base Camp 2020
---
AN EXPEDITION FOR BOTH SIGHTED AND VISUALLY IMPAIRED PARTICIPANTS
PROVIDING EQUALITY IN OPPORTUNITY AND ACHIEVEMENT

EXPEDITION GOALS
To provide equality in opportunity and achievement by delivering a supported expedition to Everest Base Camp for those with a visual impairment.
Aims:
To provide 6 people with a visual impairment the opportunity to complete an overseas expedition.

To allow people with a visual impairment to push their own boundaries and achieve their own goals.
To increase public awareness of the visually impaired thus increasing their equal inclusion in society.
To trek through one of the most dramatic mountain landscapes that the world has to offer to the legendary Everest Base Camp.
To experience some of the culture and heritage of this hospitable country
Venture Force will be working together with "Blind in Business" to recruit our visually impaired participants.
Blind in Business provides training, support and advice to blind and partially sighted graduates to enable them to compete equally with sighted candidates for the very best jobs in the country.  For further details please visit www.blindinbusiness.org.uk 
Venture Force wish to recruit 10 sighted participants who want the personal challenge of trekking to Everest Base Camp.  You should have the determination to complete the trek yourself but also the ambition and drive to work in a team consisting of both sighted and visually impaired expedition members.
Venture Force delivers bespoke and life changing expeditions for young people and adults alike all with the aim of personal development. Our ethos is simple when it comes to inclusion: there is something for everyone and we adapt our expeditions to ensure that everyone gets the same opportunities as the next.
In the past, Venture Force have successfully delivered adult expeditions to Everest Base Camp. This expedition takes 21 days and takes you on a journey from the hustle and bustle of Kathmandu, with its noise, heat and smells of car fumes mixed with incense, all the way to Everest Base Camp where you can feel the chill of the winds coming from the Khumbu icefall, hear the flap of tent canvas in the wind, and experience the sense of achievement of trekkers reaching their final destination. Along the way the team will stay in local tea houses where you will drink the local spiced Masala tea, eat the local delicacies including Dhal Bhat and Momo, feel the fresh, clean air of the Himalayas, and hear the cow bells of yaks taking their load to remote villages.
We have always found this a wonderful experience and we want to be able to offer this opportunity to everyone!

  £4,065 (£4,000 expedition cost including the £400 deposit, £35 visa cost, £30 tips for porter at client discretion) 

Duration: 21 days (UK to UK)

Dates: 5th November to 25th November 2020 (dates may vary +/- 2 days depending on flight availability)
▼ Inclusions
International flights
Internal flights (Kathmandu to Lukla return)
Two qualified and experienced British Mountain Expedition Leaders
One local porter per 2 x persons + local guide and assistant guide
Food and Accommodation in Kathmandu (4 nights)
Food and accommodation in Tea Houses for the duration of the trek (15 nights)
Visit to Kathmandu Durbar Square, Swayambhunath (Monkey temple) and Pasupatinath
Celebratory end of expedition meal
National Park Passes and Trekking Permits (TIMS)
Group kit and equipment
Venture Force t-shirt and 80L heavy duty travel bag
Comprehensive travel insurance including medical repatriation
24/7 Remote Medical Support
24/7 UK Operations Room Support
International Communications package including sat phone and personal locator beacon
Comprehensive medical kit including supplementary oxygen
▼ Exclusions
Cost of vaccinations
Personal Kit and equipment
Drinks and food outside of costs outlined above
Personal spending money
Charging electrical equipment and internet use at guest houses
Cost of the training weekends *
* Training Weekends
Our proposal is that twice during the build- up phase, the expedition leaders and the team will meet at a youth hostel in either the Peak District or North Wales to engage in a team building and training.
These training weekends will enable the team and expedition leaders to properly meet, develop essential team work, prepare the team on all aspects of expedition life, and to get out on the hills so that we can assess how the team will work together and address any fitness issues.
The aim is that these weekends are fun and foster a well-knit efficient team for our ultimate challenge.
Inclusions
International flights
Internal flights (Kathmandu to Lukla return)
Two qualified and experienced British Mountain Expedition Leaders
One local porter per 2 x persons + local guide and assistant guide
Food and Accommodation in Kathmandu (4 nights)
Food and accommodation in Tea Houses for the duration of the trek (15 nights)
Visit to Kathmandu Durbar Square, Swayambhunath (Monkey temple) and Pasupatinath
Celebratory end of expedition meal
National Park Passes and Trekking Permits (TIMS)
Group kit and equipment
Venture Force t-shirt and 80L heavy duty travel bag
Comprehensive travel insurance including medical repatriation
24/7 Remote Medical Support
24/7 UK Operations Room Support
International Communications package including sat phone and personal locator beacon
Comprehensive medical kit including supplementary oxygen
Exclusions
Cost of vaccinations
Personal Kit and equipment
Drinks and food outside of costs outlined above
Personal spending money
Charging electrical equipment and internet use at guest houses
Cost of the training weekend *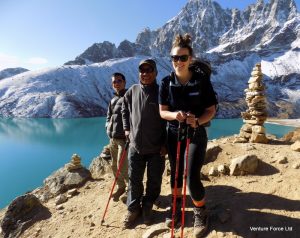 The adventure starts here…
To secure your place on our Everest Base Camp 2020 Team contact us on 01664 490 453 or info@ventureforce.co.uk
The final date for team selection is December 2019